Jasmine Dragon Ball Green Tea

(

Mo Li Hua Cha Tea

)
Click Photo To Enlarge

Factory sealed for freshness, in-stock and starting at $2.50, this tea is available in 4 gram or 50 gram sizes (Item: G1-1 or Item: G2-1). For more details, please refer to the packaging size samples.

Two tea leaves and a bud are gently plucked, then set in bamboo baskets to wither. Unopened jasmine flowers are picked and placed upon the tea leaves. During the night the blossoms open and their fragrance is imparted into the tea leaves. The next morning these are removed. Fresh unopened jasmine buds are again placed upon the tea leaves. This step is repeated again and again until this deliciously fragrant tea is resplendent in the scent and flavor of jasmine.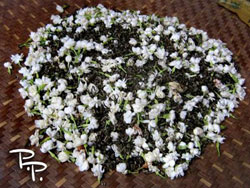 Click Photo To Enlarge