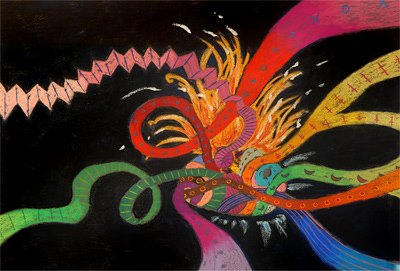 About Paula Winchester and Her Pastels
My adventure with pastels began in a rather unusual way. When driving onto Rockhurst High School property to pick up my son on his very last day, I was wondering how my life would be different. Nicholas would be going to college in the fall, and I, my role as mother would shift, be down-sized and eventually eliminated. I was wondering who I was underneath this guise of mother, entrepreneur, etc. At that moment an object appeared before me as if on a movie screen. It was an odd shaped flaming sphere. Yellow flames were shooting out of it, but only in the places where openness was. Some parts of the sphere were covered in tightly wound colored ribbons. Yet, other parts had ribbons unfurling wildly in all directions.
A freeing of things held close in. Where an opening in the surface appeared, flames leaped forth. I decided that my life as I had known it for 18 years was ending. That which I had been would no longer be needed, wanted or required. I could let go...the ribbons unfurling. New pieces of me could be generated...the yellow flames.
Shortly afterwards upon visiting a local gallery, I saw a pastel of a cigar box with cherries beside it. It was magnificent and so brilliant that I decided I must try pastels. I found Jerry Brown, a pastel teacher, and began to take lessons on a weekly basis. Now years later, my pastels have sold at our student shows, in the Westport Art Show, and even down my block. This website will make my work accessible any time day or night for gift-giving or self-indulgence.
My pastel prints are high resolution Epson 4000 Giclee reproductions, which are printed on archival paper using ultrachrome ink. Because of these materials you can expect your high quality print to remain light fast for a minimum of 80-100 years. Please share my work with a friend and remember:
The highest reward for our toil is not what we get from it, but what we become by it. — John Rushkin