TEA POTS
Two whimsical tea pots in my collection: Paul Cardew's WHITE RABBIT and Andy Titcomb's ELEPHANT with TEA POT on a PILLOW.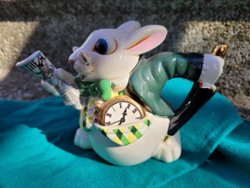 In my collection of tea pots, I have many very practical ones. Those that I select to use each day depending on
the tea I am drinking. In the 1990s I added two whimsical tea pots: Paul Cardew's White Rabbit and Andy Titcomb's
Elephant with Tea Pot on Pillow. I never made tea in them, but adored them as collectibles/statues, while collecting other
Alice in Wonderland memorabilia. Andy Titcomb started making his own tea pots in 1983 after he parted company with Paul Cardew.
He worked with Cardew's Sunshine Ceramics from 1978 to 1983. Titcomb set up in his Lavender Cottage Studio, North Cornwall, UK.
Each Titcomb tea pot was personally signed and dated by him. Many tea pots were made in short production runs,
however in 2016 he ended all things ceramic. The Elephant tea pot is dated 1999 making it 24 years old with no more being made.
My White Rabbit is #1481 of a limited run of 5000 with all the markings of an authentic piece.
Since I know I will be moving in the near future, I am trying to find loving homes for these at the best price I can offer. Check out
Google, Etsy, etc., to compare. For BOTH: $125.00 includes shipping and insurance within the lower 48 states in the USA.