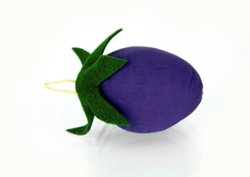 Bambino Purple Eggplant Catnip Toy
New and In-Stock
Item: C1000-3
Price: $6.50
For Tea Lover's Feline and Vegetarian Cats Ho! Ho!

In these toys, we use all-natural, human grade quality catnip. This high quality catnip makes a thrilling difference in your cat's interest. Some cats however like to bat their toys about the room. The roundest one we have is the rotund Bambino Eggplant. Some say it look like a huge, dark purple grape just incase your cat prefers fruits to vegetables..

Your cat might lick and carry its toy about the house. Your cat might drool all over its toy. Your cat might shred the toy apart in its enthusiasm. We do NOT guarantee this toy's longevity due to your cat's "loving nature."