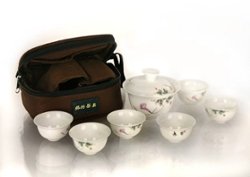 Chinese Traveling Kit Gaiwans
New and In-Stock
Item: FS608-1
Price: $32.00
When I traveled to China in 2008 I brought home a few of these gaiwans in my suitcase. Perfect size to take on a train or a flight and share with your seatmates!

The Lavender Morning Glory and Leaf design has 6 tiny cups, the gaiwan (like a traveling teapot), and a pair of tweezers to pick up the cups when hot.

5 out of 5 Stars, Rebecca W. from Decatur, Ga., wrote: "I used your lovely Morning Glory Gaiwan Travelling Set on a flight. It made flying coach feel like First Class."