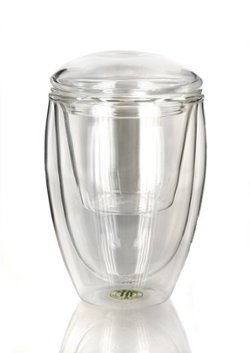 "Cool" Tea Infuser
New and In-Stock
Item: FS607
Price: $20.00
Double-walled borosilicate glass. Includes infuser, lid and coaster. Holds 12 oz.

"The double-walled silky feeling glass feels so cool to the hand, but one has to make a mental note before putting lip to the glass edge - 'remember! this will be hot'. The mind must make an important temperature separation. This is so cool. A beauty to hold and use."

May you experience Peace in a Bowl of Tea...