April 6 - 16, 2008: Tea Tour of China
3 provinces in China...Hong Kong to Shanghai
Flew 15,000 miles and rode (via private bus) 2,400 miles!
Returned: Happy and EXHAUSTED!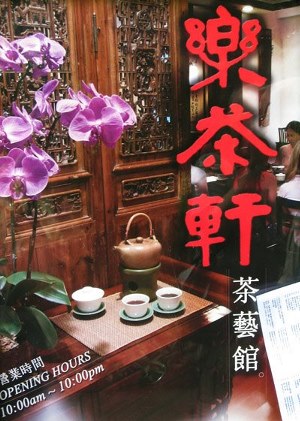 Spent several days in Hong Kong, acclimating and visiting temples, a tea museum and tea shops.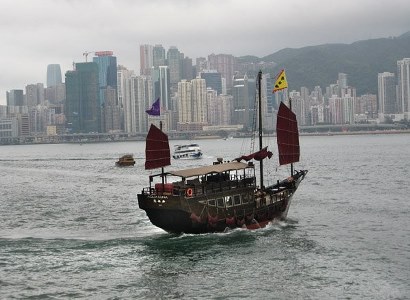 The Wharf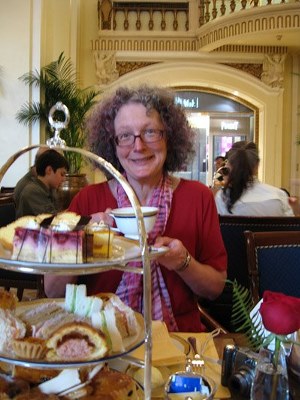 Had a pleasant Afternoon Tea at the 'grande dame' of Victorian hotels. It has been nicknamed 'The Pen'. There are fleets of Rolls Royces sitting out front for its clients.
For 8 awesome days our home was a large bus with its two drivers. Zig-zagging through Guangdong, Fujian and Zhejiang Provinces, we visited many tea farms, finally checking into our hotels between 11 pm and 2 am.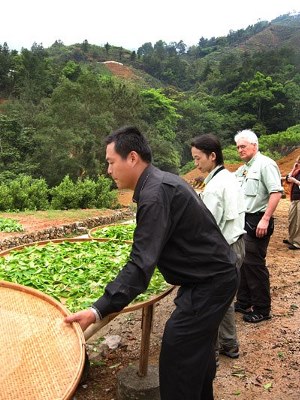 Twelve Winds Tea Company's Honeysuckle Almond Oolong comes from the extended Huang tea family. Phil, my tea importer, Ben, the interpreter, and Mr. Huang are spreading out the first of the spring season's tea leaves on huge, flat bamboo baskets to wither.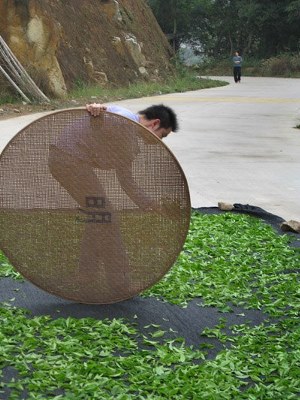 The tea plucking season started late...the very week that we arrived. Tea leaves are even spread out on tarps on the road.
Roads were the only flat surfaces except for some roof tops and gently sloped dam walls...perfect for the withering step. Withering reduces the moisture content of tea leaves by 15-20% and makes them more pliable for further processing.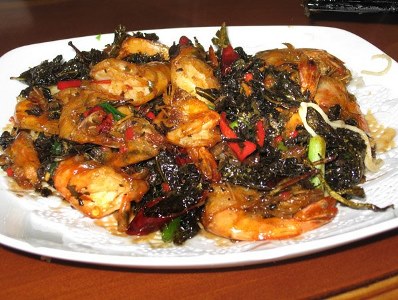 Food! We ate like royalty throughout the trip. Tea leaves were used to prepare a dish.
Interestingly, tea related culinary and cocktail courses were recently taught at the World Tea Expo in Las Vegas, May 30-June 1st, 2008.
We saw a demonstration of how Twelve Winds Tea Company's Fairy Rain Oolong was made. This is a cloth ball filled with tea leaves.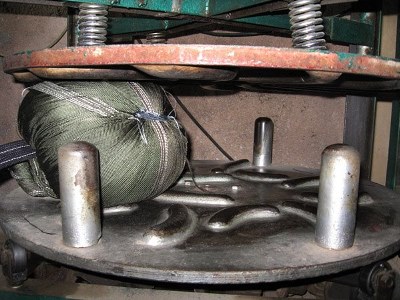 They are rolled tighter and tighter to produce the proper shape of each tea leaf.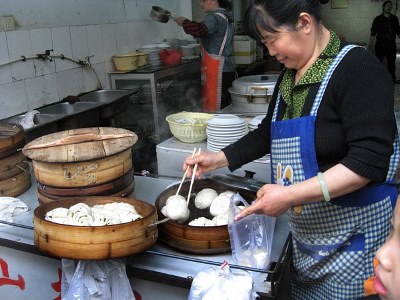 Though we were inundated with tea culture, we also loved visiting this savory steamed bun shop. That Chinese shop owner is probably still telling the tale how 14 Westerners got off a bus on her narrow street and bought all of her steamed buns that morning.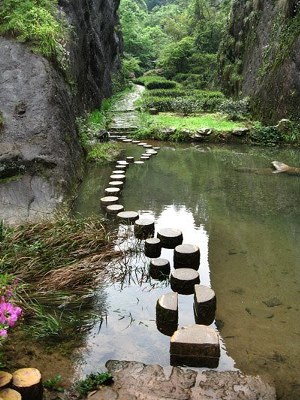 Some ancient tea farms have become national parks. The one above is in the scenic Wu Yi mountainous tea area. Tea bushes only get sunshine at noon due to the steep slopes and narrow tea growing valleys.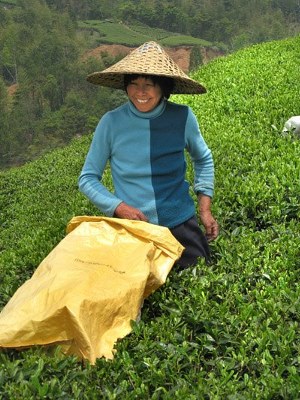 On to Fujian Province and the Silver Needles White tea fields.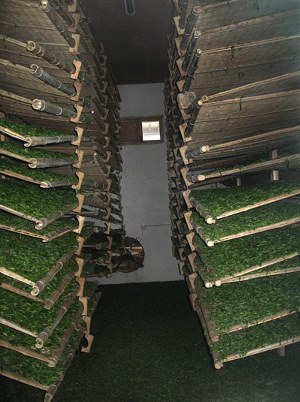 This tea (above) is only plucked 3-4 days in the early spring...that's it! Then, these downy buds are delicately air dried on bamboo screens. Each bud, once it is infused and carefully pried open, will reveal to you the beginnings of 3 leaves. An expensive tea!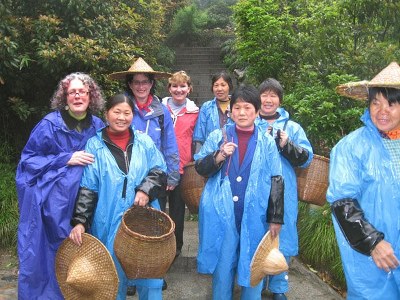 In the Zhejiang Province we visited the home of one of China's most famous teas — Dragon Well Green tea and we laughed with pluckers.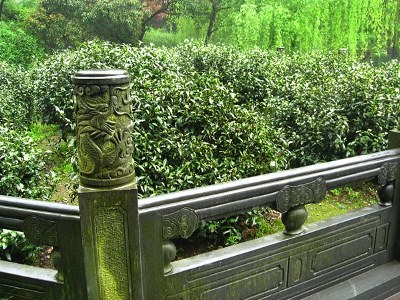 We visited the "Mother" Dragon Well trees.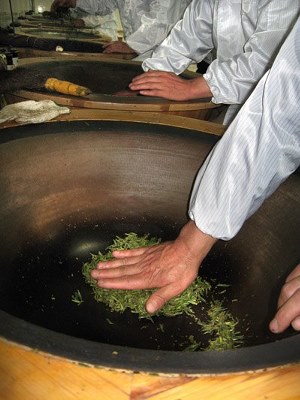 We saw the pan-firing technique. This makes these tea leaves into their distinctive flat, fan-shaped style. It takes 1 ¼ pluckers working all day (2 kilograms of fresh tea leaves) to keep 1 pan-firing genius busy all day with the final results of 400 grams of ready-to-use Dragon Well tea leaves.
Tea is a journey...it is not just a destination.
Thanks for coming with me!
Paula Ann Winchester