June 2007: Tea Retreat at Sunrise Springs Resort
Chanoyu tea practitioners from all over the United States and Japan came together at Sunrise Springs Resort outside Santa Fe, New Mexico, in late June 2007, for five days.
Matcha, the whipped powdered green tea used in chanoyu, was served in the wee hours of the morning with the sun just coming through the trees, while dragonflies and hummingbirds darted here and there.
Paula Winchester served tea on the tiny boat dock by candle light with a full moon and bats dipping into the pond for a drink. Just as her six guests finished their tea, a sudden wind blew out all the candles creating an unusual ending to her raku-bon tea ceremony.
Friends In Tea will be meeting again in two years in the northeast corner of the United States.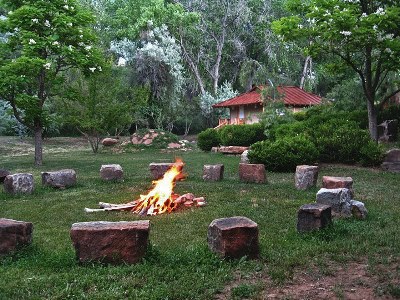 The teahouse of Sunrise Spings Resort, outside of Santa Fe, New Mexico, is nestled among the trees. A fire is blazing in preparation for the evening's special event - a smudging and blessing by Jasper of the Taos Pueblo.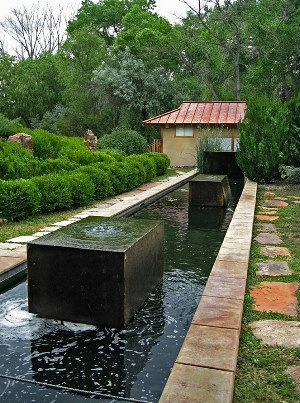 Three inscribed fountains seem to float upon the long rectangular pool filled with Koi. The stone path leads to the 4 1/2 mat teahouse at the Sunrise Springs Resort.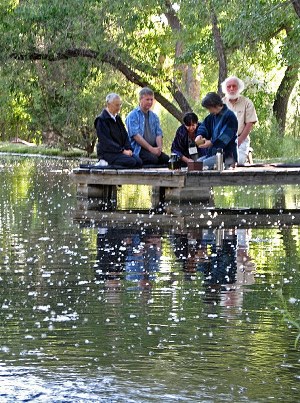 Three chanoyu guests sit upon the tiny boat dock at Sunrise Springs Resort while Shujiro from Kobe, Japan, prepares the matcha for them to sip. Cottonwood fluff floats upon their reflections in the water.