October 14 - 24, 2010: Taiwan Oolongs Study Tour
To continue my study of tea, I travelled to Taiwan. Formerly known as Formosa, this small island (89 mi. by 250 mi.) is just 100 miles off the coast of China. There, I was immersed in my tea studies October 16th to 23rd, 2011. My Taiwan Oolongs Study Tour (TOST) started in the capital city of Taipei after a 14 hr. non-stop flight from Los Angeles. I would like to share these photos with you of my wonderful experiences there.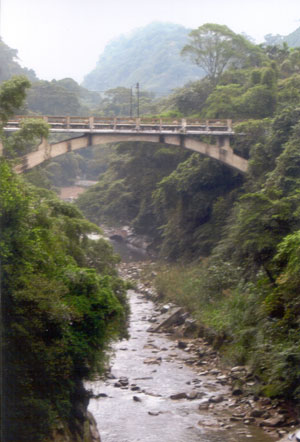 The old arched Baan bridge in Sanhsia, which means Three Gorges.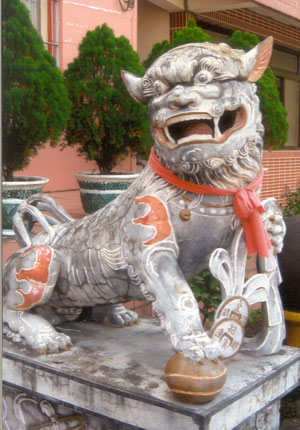 A fierce lion in front of a Buddhist Temple.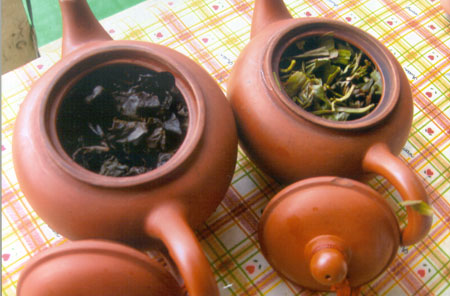 Gong Fu style tea at Ching Chin Teahouse - the end of the Maokong gondola ride.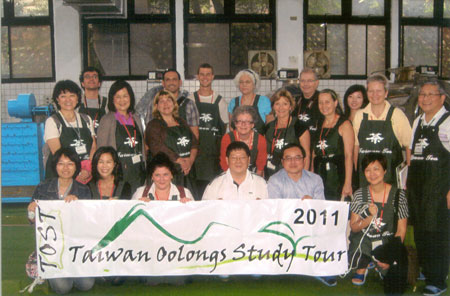 One of the many Taiwan Oolongs Study Tour (TOST) group photos.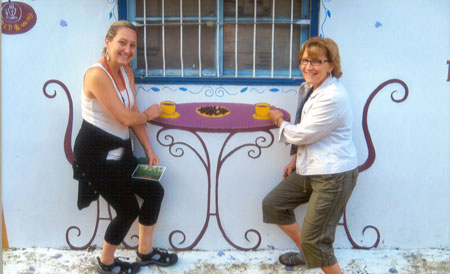 Angela (Ohio) and Lisa (Pa.) having tea "trompe l'oeil style" near our Teapot Hotel in Rui-Li.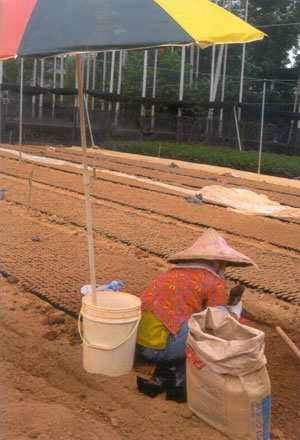 Tea nursery - this woman is packing special soil into paper pots.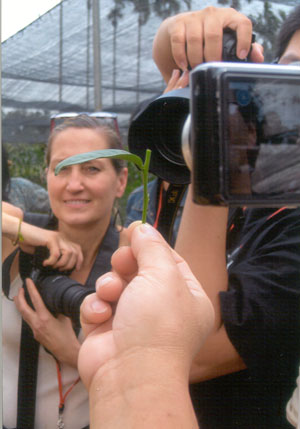 Then tender tea bush cuttings are made,
and put into these thousands of paper pots to start a tea bush nursery.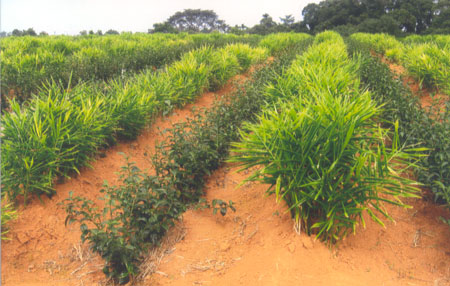 Growing ginger between the rows of juvenile tea bushes.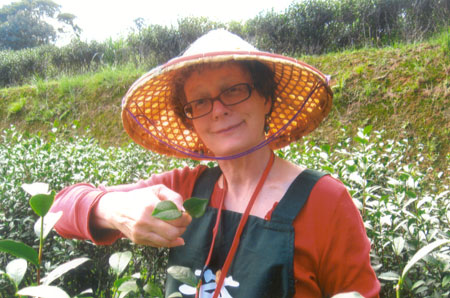 Me at the Wen Shan tea farm. Red is good when you are surrounded by deep green. Surely I won't be left behind!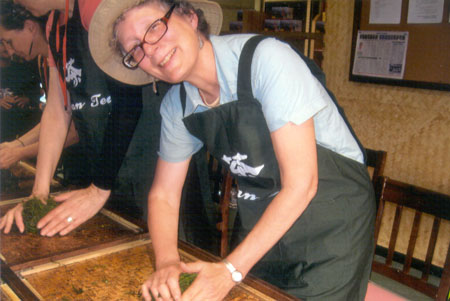 Hand rolling tea leaves on bamboo tray to begin the tea making process for my own Sun Moon Lake black tea.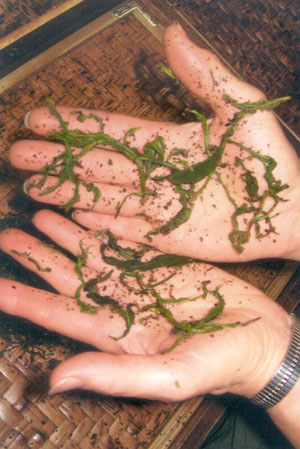 The process is very sticky with a heavenly aroma.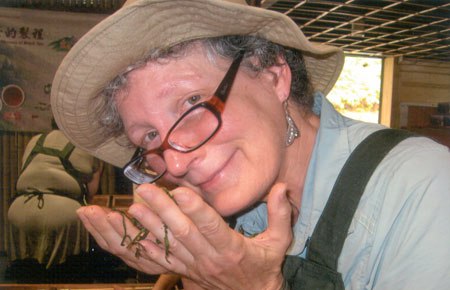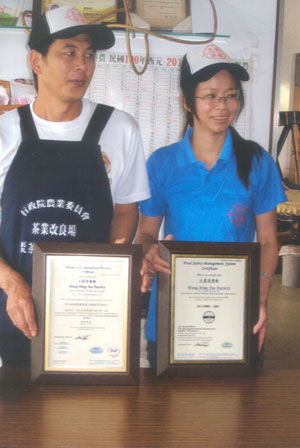 Mr. and Mrs. Hung-Chen Wang with their certificates for Taiwan Good Agricultural Practices.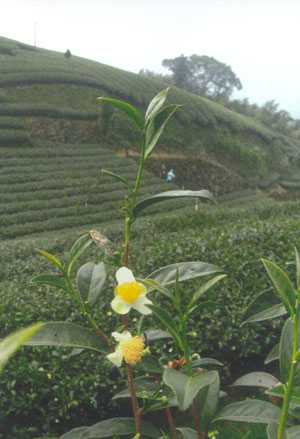 The Wang tea fields on Mei Shan in the Ali Shan District, where Mr. Wang, his father and brother, reset the stones (boulders would be more accurate) after a serious earthquake in 9/21/2000.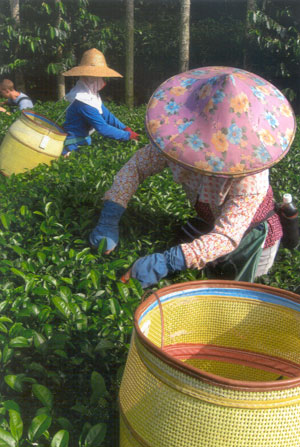 Professional tea pluckers working away in the early morning.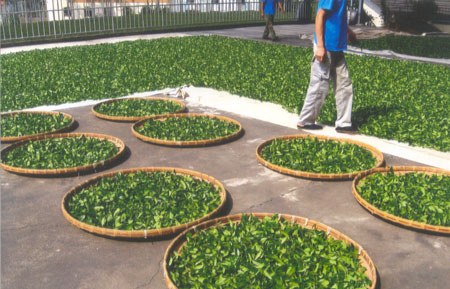 Freshly plucked tea leaves are spread out on Mr. Wang's withering platform...his leaves on sheets and the TOST members' tea leaves on 5' wide bamboo trays. We worked 16 hrs. to make our Jade Oolong. After we departed our stations, Mr. Wang worked on into the night to roll our tea leaves into crinkly balls.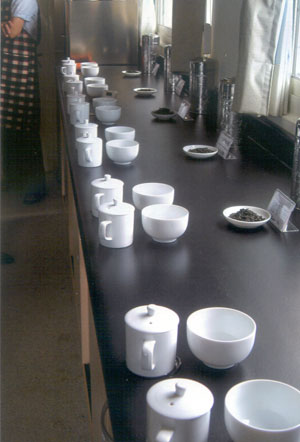 A set-up for a professional tea tasting with our cupping sets at the TRES (Tea Research and Extension Service)/Yuchih Branch.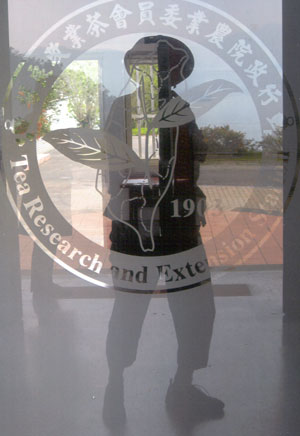 My image on the etched glass door at TRES.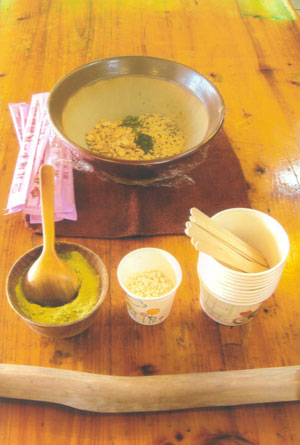 The makings for Lei Cha at Mr. Peng's Kuan-Chun PonFonCha Museum. PonFonCha is the tea name for the famous and very expensive Oriental BeautyTea made only in Beipu, Hsinchu County.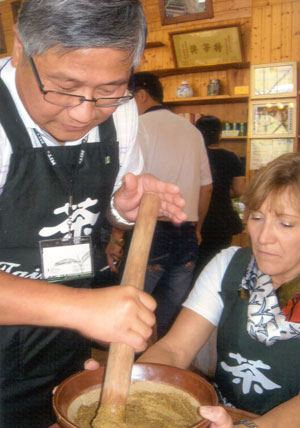 Thomas Shu (tour leader) and my friend Lisa, while using a large mortar and pestle, grind the peanuts, pine nuts, white and black sesame seeds, pumpkin & sunflower seeds, and dried tea leave into a paste. A dollop of the paste is then put into a cup to which brewed green tea was added. This makes a very nutritious and flavorful porridge-like brew.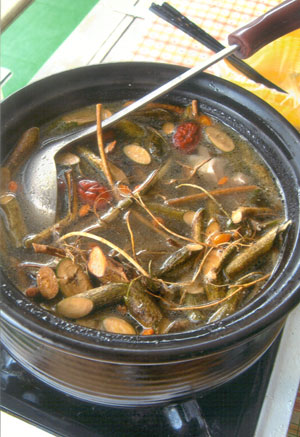 The menu said: "chicken in fig tree soup"! To my amazement the broth was full of sticks, some chicken, goji berries, and jujubes (their interpretation for figs). The sticks were slender roots and stalks (hard enough for a beaver) of the Gobo (burdock) plant, which is suppose to bring one good health, if not at least, a good giggle.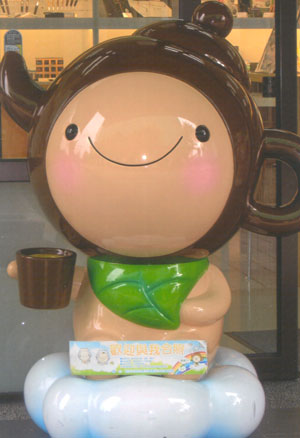 In Taipei the thrilling, long distance Maokong gondola ride took us (Angela, Lisa, and me) to the top of these mountains which surround the city. Up there in the breeze and clear air, there are 50+ teahouses. One of these, Ching Chin, was the site of our "stick soup". This teapot statue with its teapot head, teacup, and tea leaf scarf is the mascot for this tea producing/teahouse area.