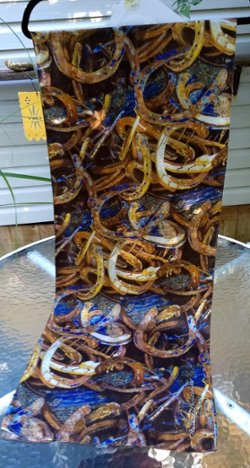 Trails End
New and In-Stock
Item: S700-30
Price: $180.00

Trails End – My friend Penny in Tucson, AZ, rented trail horses from a nearby stable. After riding in the
arroyo, we returned the shaggy mounts to their rather crude corral. I noticed a disarrayed pile of
rusting horseshoes that were catching the late afternoon rays of the intense, desert sunlight. What an
amazing assortment of colors, which then became my Trails End charmeuse silk scarf.