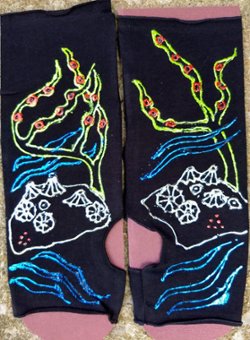 Black - Sea Coast
New and In-Stock
Item: 130
Price: $35.00
Black wrist warmer – Sea Coast
Inspired by my visit to Hog Island, off the coast
of Maine July 2016 where I attended the Audubon
Art and Birding Camp. Each hour of the day and
evening I would hear the incoming or the outgoing of
the tides. The Rock Weed and Barnacles would
patiently wait to be immersed back into the cool sea
waters. Did you know Barnacles cling to rocks with
their heads and feed themselves with their feet?